Rahul Gandhi on Thursday met the porters at a Delhi railway station, marking another one of his numerous ground-level visits under the 'Bharat Jodo Yatra Congress leader Rahul Gandhi on Thursday interacted with porters at the Anand Vihar railway station in Delhi. He spoke with them about their problems, and later also wore the porters' trademark red shirt, as he continued to push his 'Bharat Jodo Yatra' messageThe Congress leader was also spotted lifting luggage over his head as the crowd cheered himstintPeople's hero Rahul Gandhiji met his porter friends at the Anand Vihar railway station in Delhi today. Recently, a video had gone viral in which the porter friends of the railway station had expressed their desire to meet him," the Congress said in a post on X, with pictures of Gandhi interacting with the porters.
This is one of the many added to his spree of visits and interactions with people from various sections of society  from mechanics to students  asserting that his 'Bharat Jodo Yatra' continuesGandhi's focus, through Bharat Jodo Yatra, has been on interacting with the masses at the grassroots-level. He has continued to push this approach through several visits across the stretch of his yatra — from Kashmir to Kanyakumari. With many such visits over months, his party has affirmed it to be a continuation of the 'Bharat Jodo Yatra'.Earlier in August, he visited the Azadpur Mandi in Delhi and interacted with local vendors at the vegetable and fruit market. His visit was prompted by a viral video of a vegetable vendor talking about rising prices of vegetables and its overwhelming impact on the working class.
Gandhi was seen walking through a crowded market, talking to the vendors about their incomes, living conditions, and well-being. He also drank tea with them.In another such visit in July, Gandhi met farmers at Sonepat's Madina village in Haryana. He joined the farmers transplanting paddy during the impromptu visit while he was on his way to Shimla from Delhi.The former Congress MP also drove a tractor, as he interacted with the farmers amid a light drizzling of rain.In June, he met motorcycle mechanics in the national capital and talked to them about their problems. He visited a bike-repairing workshop in Karol Bagh and lent a hand with fixing a bike with a screwdriver.While on a campaign visit to Karnataka before the polls in May, Gandhi spoke to gig workers and delivery agents of app-based delivery services in Bengaluru.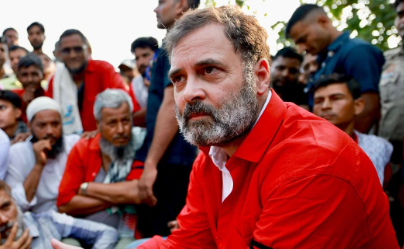 He sat with the delivery workers at a hotel and shared a cup of coffee and masala dosa with them. The workers shared with him several issues about their lives as delivery workers, a lack of stable employment and rising prices.He also went on a ride with a delivery partner on a scooter as he interacted with himHe interacted with students preparing for the Union Public Service Commission and the Staff Selection Commission examinations in the Mukherjee Nagar area in Delhi in April.He was seen seated on a chair on the roadside with the students as he asked them about their expectations and experiencesPeople's hero Rahul Gandhiji met his porter friends at the Anand Vihar railway station in Delhi today.
Rahul Gandhi paid a visit to the Anand Vihar railway station in Delhi on Thursday, where he spent time engaging with porters. During his visit, the former Congress president had extensive conversations with the coolies, discussing the challenges they encounter. In a gesture of solidarity, he even donned the coolie attire, wearing a red shirt, and lifted luggage over his head. The Congress shared on X, formerly Twitter, stating, "People's hero Rahul Gandhiji met his porter friends at the Anand Vihar railway station in Delhi today. Recently, a video had gone viral in which the porter friends of the railway station had expressed their desire to meet him."
Rahul's visit comes several months after a group of porters had urged him to meet them to gain insights into their concerns and work towards improving their circumstances Recently, a video had gone viral in which the porter friends of the railway station had expressed their desire to meet him," the Congress said in a post on X, with a picture of Gandhi interacting with the portersToday, Rahulji reached among them and listened to them … Bharat Jodo journey continues," the party saidA video of the Congress leader's visit to the Railway Station was posted by news agency ANI, in which Gandhi can be seen wearing the red coolie uniform and carrying a luggage