The United States will send multiple military ships and aircraft closer to Israel as a show of support, Defense Secretary Lloyd Austin said, with Washington believing Hamas' deadly attacks may have been motivated to disrupt a potential normalizing of Israel-Saudi Arabia ties.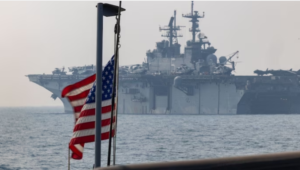 The spiraling violence threatens to start a major new war in the Middle East.At least three Americans were among those killed, CNN reported on Sunday, citing a U.S. memo.Austin in a statement said he ordered the moving of the USS Gerald R. Ford Carrier Strike Group to the Eastern Mediterranean closer to Israel. The force includes the carrier, a guided missile cruiser and four guided missile destroyers.
Austin also said the United States had also taken steps to augment U.S. Air Force F-35, F-15, F-16, and A-10 fighter aircraft squadrons in the region. He said the United States would also provide munitions to Israel.
U.S. President Joe Biden told Prime Minister Benjamin Netanyahu on Sunday that additional assistance for the Israeli Defense Forces was on its way to Israel and more would follow in the coming days, the White House said after their call. U.S. Vice President Kamala Harris also held a call with Israeli President Isaac Herzog.
The Pentagon in a later statement said Austin spoke to Israeli Defense Minister Yoav Gallant to update him on U.S. responses and "to express support for the people of Israel and to receive updates on Israel's operation to restore security and safety from Hamas' terrorist attack."
"The Secretary reaffirmed the unwavering support of the United States for Israel's right to defend itself," the statement said. It said Austin underscored that the U.S. steps "were taken to strengthen the U.S. military posture in the region to bolster regional deterrence efforts."
A few dozen pro-Palestinian protesters gathered at Times Square in New York City and near the White House in Washington on Sunday, expressing opposition to the U.S.' support of Israel.
Some protesters carried banners saying "End U.S. aid" and "resistance is not terrorism." New York Governor Kathy Hochul on Saturday had condemned plans for such demonstrations, saying they were "morally repugnant."